We improve energy efficiency and extend the life cycle of our client's assets.
KAEFER Energy is a leading company within ISS solutions, which providing major new build-, modification- and maintenance projects to the energy industry. KAEFER En­ergy's turnover is ap­prox. NOK 2 bil­lion, with large new build, main­ten­ance and modi­fic­a­tion con­tracts. With 45 years of experience KAEFER Energy of­fers ex­pert­ise through all pro­ject phases within the dis­cip­lines: in­su­la­tion, scaf­fold­ing, rope ac­cess, sur­face pro­tec­tion, in­terior out­fit­ting and en­gin­eer­ing.
This content will appear inside a popup…
Vision, Mission & Strategy
KAEFER Energy shall be the best company for our clients and employees.
Mission
At KAEFER Energy, we work every day to be the most reliable and efficient supplier of technical industrial services. We contribute to improved energy efficiency and extend asset life cycles.
Let's talk people
KAEFER Energy's major strength is our employees. In our company, every employee shall be allowed to develop and use their potential through training, involvement, and participation.
Let's talk operations
KAEFER Energy uses LEAN methodology and digital solutions to strengthen our deliveries to creating added value for our customers.
Let's talk future
KAEFER Energy shall strive for sustainable development and use modern technology and the best methods.
KAEFER Energy's main goal is to be the best company for our customers and employees. This means, among other things, that we will be constantly on an improvement journey with the aim of creating added value for our customers and employees. We do this by working smart, safely, delivering good quality and through plan achievement – all in a cost-effective way.
Lean contributes to added value for our customers through continuous improvement of our work processes
Safe and healthy working environment, standardized processes, increased efficiency, and competitiveness
KAEFER Energy has been awarded prizes for its Lean work, like "Lean Award of the Year"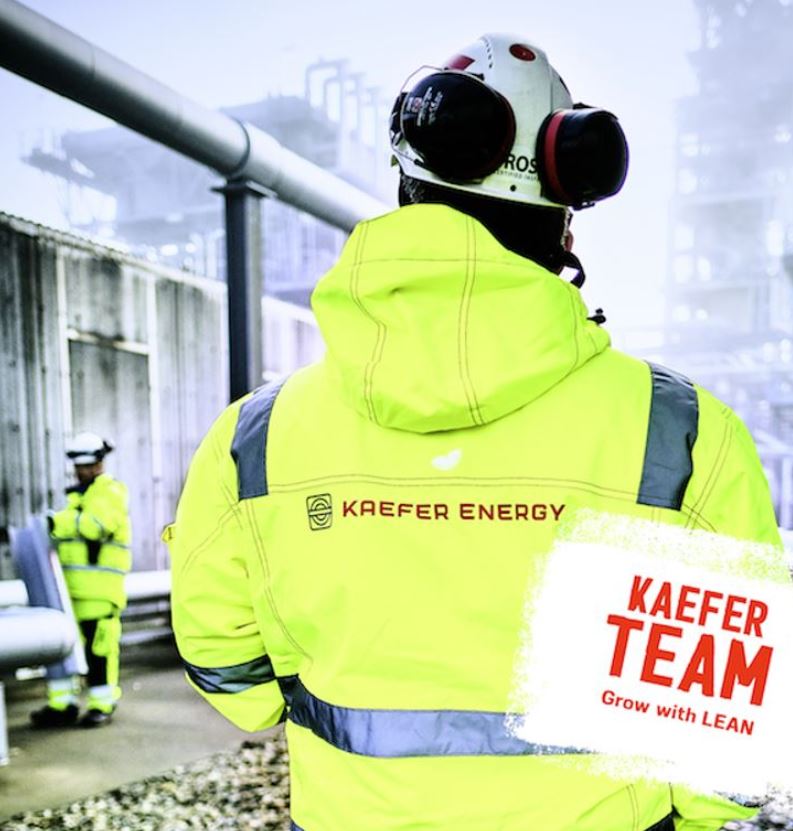 Our goal with di­git­al­iz­a­tion in KAEFER En­ergy is: «We shall let the com­puters do what they are good at, so that the people can fo­cus on what they are best at". Ongoing digitalization projects in KAEFER Energy:
DPMS is di­gital pro­ject man­age­ment solu­tion, which aims to en­sure a more ef­fi­cient and seam­less every­day life for all in­volved in a pro­ject. By us­ing tab­lets on site, we get real-time in­form­a­tion from in­spec­tions, as well as daily log dir­ectly into the sys­tem. This makes in­form­a­tion eas­ily ac­cess­ible and in­creased time sav­ings.
RPA is ro­botic data pro­cesses which can per­form simple trans­ac­tion-based tasks. Our first RPA pro­cesses have already been im­ple­men­ted in KAEFER En­ergy. The goal of the RPA pro­ject is to re­lease time for our em­ploy­ees to work with more value-cre­at­ing work.
Ana­lyt­ical plat­form re­trieves data from all our vari­ous data sources, auto­mat­ic­ally struc­tur­ize and cat­egor­ize data, and make this avail­able through Dash­boards and elec­tronic re­ports.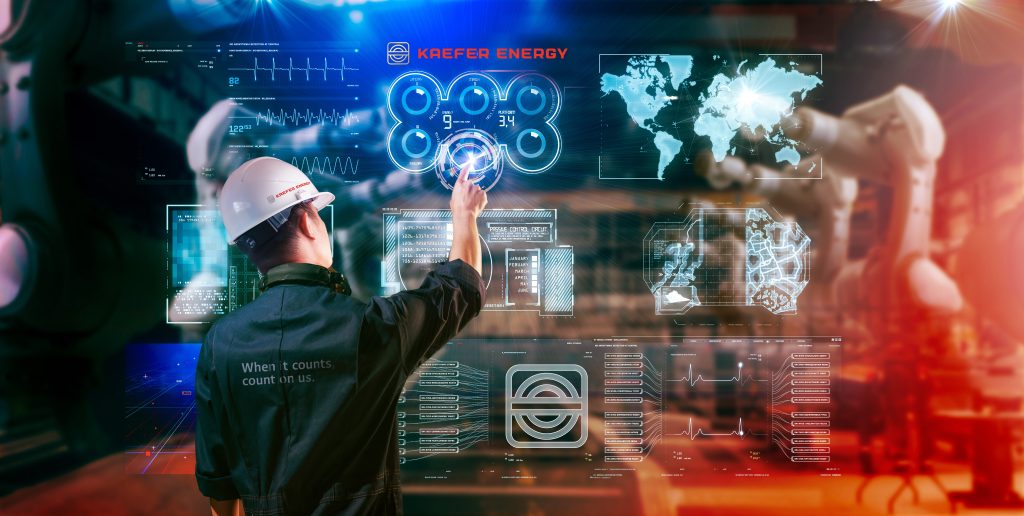 Health, Environment and Safety (HES)
HSEQ and Sustainability is KAEFER Energy's most important focus area. All our employees should feel safe at work and come home without injuries after todays' effort. KAEFER Energy is certified according to ISO 9001, ISO 14001 and ISO 45001. KAEFER Energy's management system meets the requirements of Norwegian laws and regulations. The company is pre-qualified in EPIM, a joint qualification system for the petroleum industry, as well as in Achilles.
Everyone must comply to current laws and regulations
We shall prevent and avoid injuries to personnel or damages to assets, materials and the external environment
We shall be protected against criminal acts towards humans, property and systems
Everyone must protect confidential data and secure their computer from intrusion
All have the right and duty to intervene and if necessary, stop work which may cause threats to life or health
We will monitor and follow up employees' working health and take preventive actions in order to prevent work-related injuries and sickness
Our work and products shall always be according to agreed quality
We shall continuously improve the Quality Management System
We will ensure good communication and participation from all personnel in the entire organization